Something will be missing at Albany International Airport starting Monday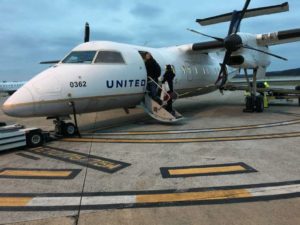 The United Express turboprop aircraft that have ferried passengers to and from Newark and Washington Dulles airports are making their last scheduled trips Sunday.
On Monday, they'll be replaced by regional jets that are faster and can fly higher.
CommutAir, a United Express regional carrier, started operating the Bombardier Dash 8 turboprops more than a decade ago, when it used them to replace smaller 19-seat Beech 1900 aircraft.
Of the 21 Dash 8s operated by CommutAir, 16 could accommodate 37 passengers, while five could each hold 50.
The switch was a big deal. The pressurized Dash 8s had a lavatory, overhead bins and a flight attendant, all of which were lacking from the Beech aircraft.
And the seats were comfortable. Seat pitch was 31 inches, with 17.3 inches of width on the 37-seaters and 19 inches on the 50-seaters, according to seatguru.com.
But some travelers complained that the Dash 8s were loud. The engines were on the wing, right outside the middle of the fuselage.
They also did not fly very high. That meant weather could be an issue, with the aircraft bouncing around on windy days.
For Albany, the planes were also a job creator. When CommutAir relocated its maintenance base in 2014 to Albany International Airport from Cleveland's Hopkins International Airport, it brought 85 jobs.
While the airline previously had a maintenance base in Albany, it was for the smaller Beech 1900s. That base closed in 2005, when it moved to Cleveland.
At one time, CommutAir operated a hub at Albany for what was then Continental Airlines, providing nearly 50 flights a day to smaller airports throughout the Northeast.
Increased security following the Sept. 11 attacks put an end to the short flights — it became more convenient for many travelers to drive to their destination — and the hub operation ended.
United acquired Continental, which had a hub at Cleveland, and CommutAir began flying as United Express.
But when United decided to reduce the Cleveland hub, CommutAir returned to Albany, although its headquarters remains in North Olmsted, a Cleveland suburb.
Last August, CommutAir and United announced plans to replace the Dash 8s with 21 Embraer 145 regional jets.
Employment has since grown to more than 130 in Albany.
On Wednesday, Joel Raymond, CommutAir's chief operating officer, said the jet fleet had already grown to 23, with plans to expand to 60, roughly three times the size of the turboprop fleet.
While the Embraer seats are similar in size to those on the Dash 8, the planes "fly faster, farther, and over the weather," Raymond said.
The fleet growth has meant more jobs in Albany.
"The maintenance organization continues to grow across the system, but the primary focus is Albany," Raymond said.
The phase-out of turboprops means United, which owns 40 percent of CommutAir, will become a nearly pure-jet carrier.
But not quite, noted United spokesman Charles Hobart.
Cape Air, the Hyannis, Mass.-based airline, which has a maintenance base next to CommutAir's at Albany International Airport, operates three turboprops for United Express that fly local routes out of Guam in the Pacific Ocean.
eanderson@timesunion.com • 518-454-5323
http://www.timesunion.com/business/article/Last-dash-out-of-Albany-Embraer-jets-into-service-12477697.php#photo-14798838