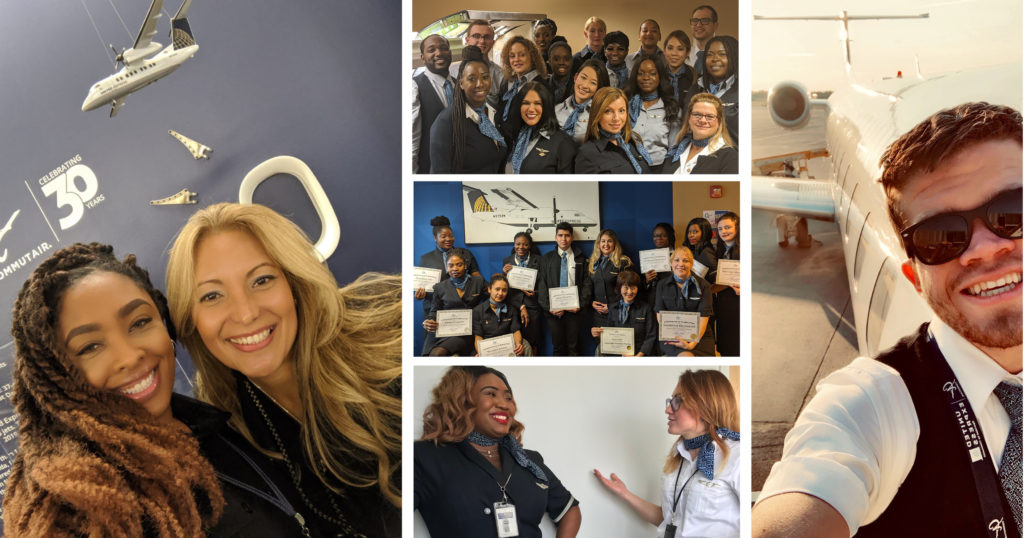 For those that have wanderlust, being a flight attendant is the adventure of a lifetime – but for a homebody, it may not have the same appeal.
Is the Flight Attendant Life for you? CommuteAir Flight Attendants share some aspects of the lifestyle for you to consider…but which are pros and which are cons depends entirely on your perspective.
AN UNCONVENTIONAL SCHEDULE
Hate the monotony of the same thing every day? The non-traditional schedule of a flight attendant is anything but boring! The airline industry is 24 hours a day, 7 days a week. No two days are the same and you bid to change your schedule monthly.
The aviation industry operates on seniority so in the beginning, Flight Attendants have less control over their schedule.
"You'll work holidays, birthdays, anniversaries, and other special occasions, at least until you have some seniority," explained Justin.
That's not necessarily a bad thing if you'd rather skip Great Aunt Ethel's 90th birthday party, but you might be bummed to miss your best friend's bridal shower.
"After a few years though, working the shifts no one else wants is totally worth it," Tonya said. Now that she has seniority, she uses it to bid for schedules with large chunks of time off that allow her to take mini vacations. "It's usually 12 to 18 days a month!"
That's far more time off than the average office worker, who only has 8 days off (the weekends).
"But when you work, you WORK hard," she continued. "This is no 9-5 job. Shifts can go as long as 16 hours, followed by 10 hours of rest."
COMMUTE CONSIDERATIONS
Obviously Flight Attendants travel FOR work, but how far will you have to travel TO work? Like pilots, FAs  can live anywhere they choose, as long as they can get themselves to base.
Each airline has several bases of operation. For CommuteAir, that means Dulles, Virginia (the D.C. area), and Newark, New Jersey. If you don't already live in the area, you'll fly (free standby, as space is available), or drive to base. CommuteAir offers free base parking.
Ashley lives in Florida but is based in Newark. If she has an early trip, she flies in the night before and pays for a hotel, or rents a crash pad in Newark. "Crash pads are shared housing for flight crews," she explained. They are a popular, more affordable option.
PROFESSIONAL TOURIST
Do you like to explore new places, or do you prefer your familiar stomping grounds? Flight Attendants are away from home for days at a time, sometimes overnighting in destination cities long enough to play tourist.
For Sandy, new cities mean the chance to explore new churches, restaurants, and other attractions. Plus, the hotels offer shuttles, so there's no need to rent a car.
"Layovers can range anywhere from 10 to 30 hours," Justin said. "Sometimes the crews go out together and it makes the layover that much better."
 
FOOD
The opportunity to explore new restaurants and local cuisine can add a layer of excitement to any trip. You can sample authentic Chicago deep-dish pizza, Philly's famous cheese steak, or classic jambalaya in New Orleans. Just think, you'll never have to do dishes!
Other considerations include cost and control. You receive a per diem for meals and you save on groceries at home, but you lose the ability to control your meals by not making them yourself.  If you're hopeless in the kitchen, it might be the perfect alternative to nightly ramen noodles.
Although she enjoys trying new restaurants, Sandy doesn't always get to eat at normal meal times and sometimes struggles to find healthy food options. To cut down on eating out, Tonya tries to pack healthy snacks from home.
HOTELS
There are two types of people in the world — Those that prefer their own bed to any other, and those that really like hotels.
Hotel life means never having to make the bed or wash towels! If you've cut the cord at home, they've got cable. And a continental breakfast is hot and ready with fresh-brewed coffee, right when you wake up.
You won't be home to kiss your kids, spouse, or parents goodnight, but you will have uninterrupted sleep and the covers all to yourself. Crews are booked in the quietest hallways to ensure peaceful slumber.
Gyms and pools ensure you won't miss a workout, and someone else scrubs the toilet and reloads the tissues when you run out.
"I love saving the sample size toiletries," Sandy said. But it's not because she likes trying products before buying full size. She saves them to donate. "My daughter recently put together 100 bags of shampoo, conditioner, soap and lotion for a Mexico Mission Trip. All with samples I've been saving!"
THE CHARACTERS YOU'LL MEET
PASSENGERS
The primary purpose of any trip is to safely transport passengers from point A to point B. Flight Attendants may not be flying the plane, but they are the face representing the airline.
"I meet and interact with interesting people from all over the world, traveling for a variety of different reasons," Tonya said. "You'll meet some of the sweetest people on Earth on one flight, but on the next there may be a grumpy passenger who is just miserable with the world, and thinks you are to blame."
For that reason, remaining pleasant and smiling through anything is an important skill for all Flight Attendants to master.
"Traveling can be stressful," explained Ashley. "But the moment a passenger boards my aircraft, I try to make this the best part of their day. I want it to be fun and relaxing."
Similarly, Sandy is a natural caretaker. She finds consoling nervous travelers and assisting sick passengers rewarding and especially enjoys the smile on a child's face when she hands them their own set of plastic wings. She's even had a child run up to her in the airport just to give her a hug!
COLLEAGUES
You're not alone with the passengers on the flight, there's the rest of the crew. "You get to work with new and old colleagues and spend a lot of time together," explained Tonya. "Some will even become your best friends, and that makes work even more fun."
Ashley couldn't agree more. "One of the greatest things about CommuteAir is the people that we fly with," she said. "It's where I've met friends of a lifetime. This is a family."
PAYING YOUR BILLS
Depending on the airline, type of aircraft, region of flights, and union agreements, Flight Attendants  salaries vary, especially while building seniority.
"If you're trying to get rich quick, this is not the job for you," Tonya cautioned. "You're able to travel the world for free, but you may not be able to afford luxury resorts. You just have to learn to finagle your finances and use all of the discounts available through your airline."
Many airlines offer employees a variety of discounts on everything from financial planning and child care, to hotels, car rentals, apparel retailers, and cruises. This perk is in addition to medical benefits, 401ks, and flexible spending accounts.
GLOBETROTTING FOR FREE
"The most significant benefit is FREE FLYING!" according to Tonya (and every flight attendant, ever.) "Being able to jump on a plane and go wherever your heart desires is such a freeing experience!"
Justin also takes spur of the moment trips, even after several days flying for work.
At the end of his last scheduled day, he walks the airport to see what flights are available.  "Oh no! I'm out of olive oil. No worries, I'll just go to Italy to get some," he joked. But that scenario is a reality for many in aviation. He discovered his favorite Canadian coffee chain is also in Buffalo, so when he runs out, he's been known to make a quick trip to New York.
At CommuteAir, the free (and deeply discounted) travel benefits extend to close family and friends, as well.
LOVE IT OR LEAVE IT
Like any job, being a flight attendant has good days and bad, perks and drawbacks – depending on your perspective.
"Flying is a lifestyle you either LOVE or LEAVE," Tonya said. "But if you love it, aviation's in your blood for LIFE."
For Ashley, she can't imagine doing anything else. "Becoming a flight attendant changed my life, and I'm really happy to have done this!"
# # #
RELATED: